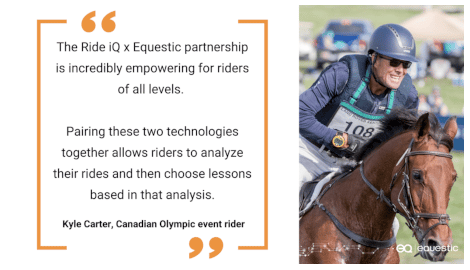 Now all equestic riders can have a exclusive selection of audio and video lessons aimed at riding improvement through quality exercises while also using your Equestic App!
Ride iQ is providing many lessons for different equestrian disciplines, levels, and individual goals. Together with Ride iQ, we have selected specialized lessons for Equestic users that gives you direction on the exercises that are aligned to your goals from the Equestic App. With this, you can focus your efforts to improve your results through tailored exercises and track the progress within the Equestic App!
Ride iQ is a platform that many of you may be familiar with and here you have the exclusive 'Getting Started Guide' with our selection of curated lessons for Equestic users.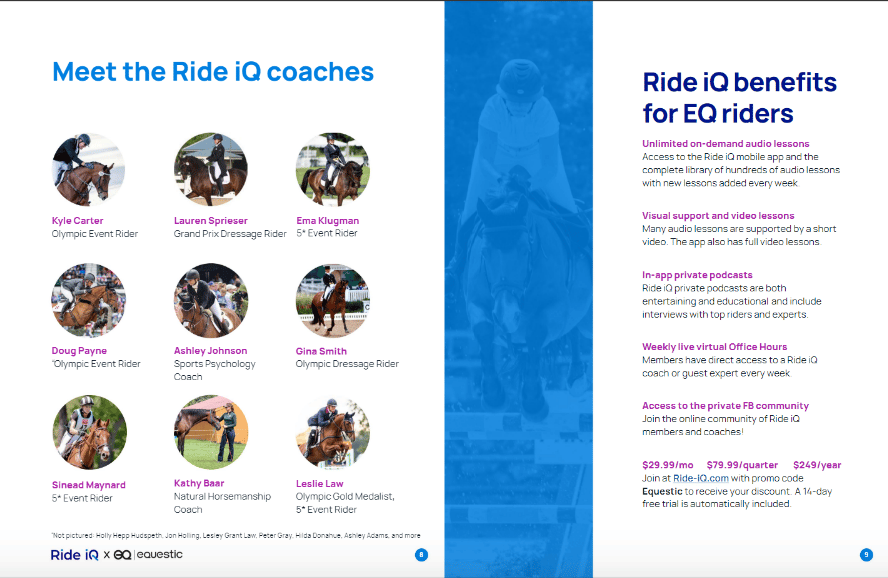 Well, perhaps you are the rider that sees your data weaknesses or is notified of them but doesn't know what exercise to apply to help improve your horse's symmetry. Do not worry! This can help you…
Or maybe you are the rider who is preparing for an upcoming competition and would like to work on a specific improvement with your horse while monitoring him closely. Then, this is for you!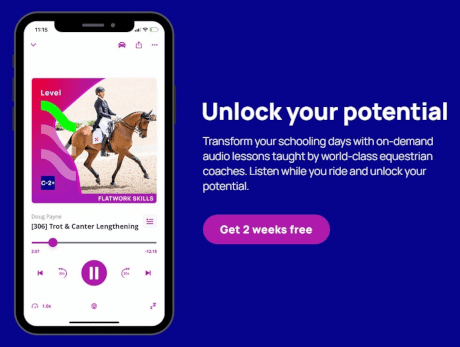 Are you the rider who needs motivation from a coach to push yourself in your riding? Or maybe you don't have easy access to a coach all the time? This is something as riders we can relate to… and now you can have it all!
The different reasons are endless as you can see. The confidence from receiving quality coaching through Ride iQ while monitoring the changes in you and your horse through the Equestic App is unparalleled.
So, now you may ask…. How do I sign up for this?
Follow Ride iQ (ride-iq.com) and enter the sign up process for the preferred Ride iQ subscription with a 14-day free trial.
On the next page please use the promo code EQUESTIC50 to get exclusive 50% discount off your first membership payment.
How to enter the Equestic promo code: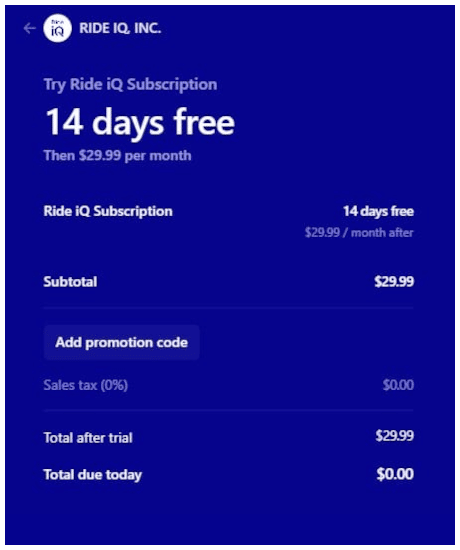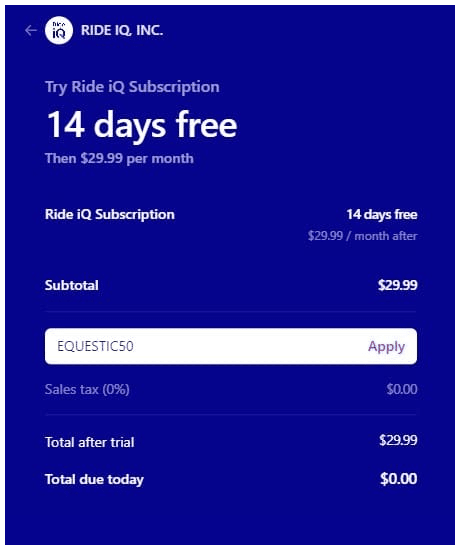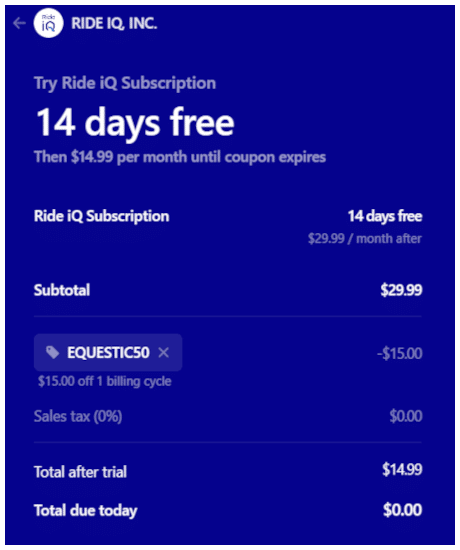 Ride iQ and Equestic is better together!
As riders, we are always striving to improve ourselves and our horses. We want to train effectively and efficiently. With the Equestic SaddleClip, there is now the ability to train, measure and analyze your riding in a whole new way. Actual data and measurements help you train in a targeted manner. Have you analyzed your training and do you know what you want to focus on? This is where Ride iQ comes into play.
With over 100 audio lessons, there's always one for you to choose from. Be guided during your training by top class coaches including Olympic Dressage rider Gina Smith, Olympic Eventing rider Kyle Carter, Olympic Eventing and Show Jumping Doug Payne.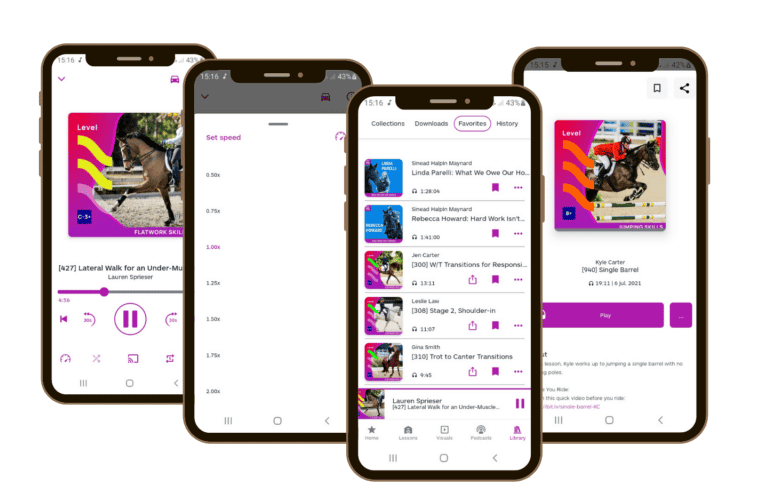 The Ride iQ app is user-friendly and efficient. There are different categories and levels to choose from in the audio lessons. Beginning to advanced exercises are classified and can be utilized. Anything from groundwork to jumping footwork can be found. You also can select a warm-up or a longer lesson. Find the correct lesson, get on and press play. It's that simple.
Start your training with the Equestic SaddleClip and launch the Ride iQ app!
Download and open the Ride iQ app.
Choose your lesson.
Start your ride with Equestic and listen to Ride iQ while you train.
Stop your SaddleClip ride in the EQ app and analize your progress.
Best wishes and happy riding!