Rehabilitation for Success: Increase Your Chances with EQUESTIC!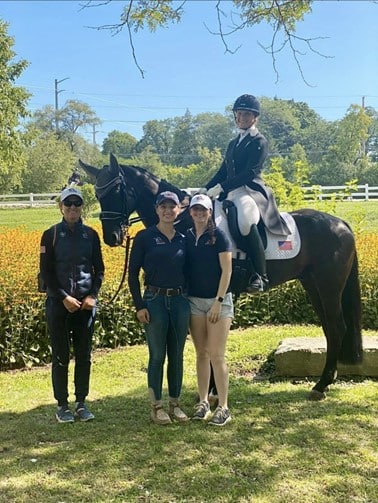 Rehabilitation of our equine athletes is one of the most difficult tasks to do correctly. It is paramount that we do as much as we can to ensure the best results. Proper rehabilitation requires many areas of expertise to be utilized.
As your horse's advocate, you must keep track of the changes in how he is doing and gradually build him back up to avoid reinjury. This is a very difficult task to monitor with only the naked eye. Let's learn from Callie Jones, Grand Prix U25 rider, who brought her horse Don Philippo back from a leg injury to compete at Festival of Champions this year in Chicago, IL.
Here is Don Philippo's story…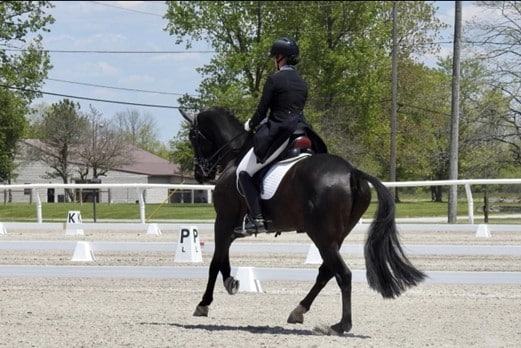 Phil had an injury to his left front. Due to the characteristic of his injury it was not "serious" at the time per-say, but if we did not catch it when we did then it had potential to turn serious.
When we received the initial diagnosis we discussed a rehab program with our vet and agreed to start with 2 weeks of hand walking then would reevaluate to check the progression of healing.
We found that the injury was healing a lot slower than anticipated
It was improving, but definitely not as quickly as we originally hoped. We had another discussion with our vet and decided on another 2 weeks of hand walking and again would reevaluate.
The injury continued to improve, but we all agreed that we needed to take the rehab very seriously and not rush things to ensure it healed 100% before jumping into any kind of work.
The Equestic SaddleClip was definitely a valuable tool that I utilized during Phil's rehab
After approximately 4 weeks of hand walking we agreed it would be beneficial to move to tack walking for 2 weeks and again would reevaluate. Then we started adding in short trot sessions, but only on a straight line.
This is where the SaddleClip really came into play because I could monitor the data to see the progression in his rehab. I mainly focused on the symmetry data which is push off, rhythm and landing, but was also able to utilize the work per gait data and work spent per rein since we wanted to keep the trot and canter on a straight line for the first few weeks.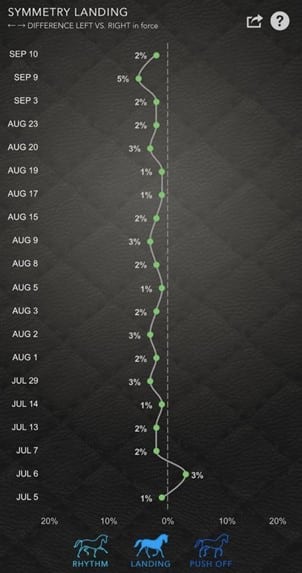 The most important thing we focused on was not building up too fast
The SaddleClip really helped me stay on track. When we started adding in the short trot sessions I was able to use the SaddleClip to my advantage to really keep track of small changes, whether it was progressing or regressing, and I found it very beneficial to share the data with our vet.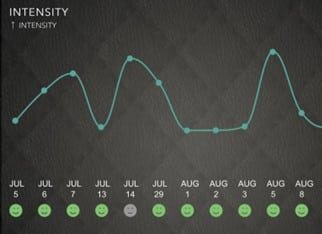 There were a few instances when the data slightly skewed away from his normal numbers or was not improving like it had been, so we always took a step back the next day or two and went back to only walking. There were also times when the data improved so our vet told me to add a few more minutes of trot and canter the next day.
I found it very beneficial to share the data with our vet
After 2 weeks of walking and short trot sessions we added in short canter sessions on the straight line. Again, there were times when the data regressed slightly so we would again back off for a few days.
Over the following weeks I slowly added more and more until he was fit enough to go back to full work. During this time we worked closely with our vet to ensure the injury wasn't regressing and I continued to monitor the data given by the SaddleClip to ensure I was not upping the work too quickly and his symmetry and rhythm continued to improve/stay in normal ranges.
By keeping my vet informed of symmetry data we were able to build an appropriate rehab program for each week which I believe helped in how quickly Phil was actually able to come back into full work.
What bigger win than that?!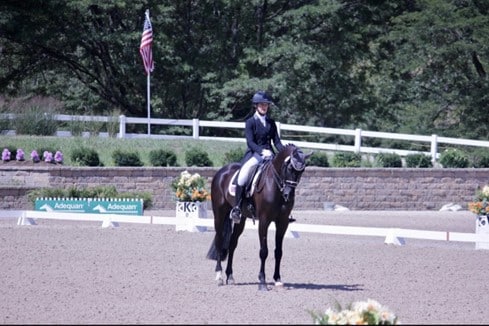 It was lovely hearing from Callie about how she utilized Equestic throughout Don Philippo's rehabilitation process – and we are thrilled that he is back doing what he loves in the sport of Dressage.
Years ago the Equestic founder, Leon Rutten, had a special horse, Lord of Dance, who sustained an injury to his tendon during jumping and had cartilage damage to his knee. At the time, there were no consumer devices on the market that could accurately measure and record changes in gait, push-off, and landing symmetry.
This led Leon to create the Equestic SaddleClip – the technology to measure the quality of a horse movement and to help you keep track of your horse's progress in the most optimal way.
Don't miss your next winning moment – get your Equestic Saddle Clip now!